This is the story of Mary CLEMENT and the deaths surrounding her.
(her name was also found as KLEMANN/ CLAYMAN/ KLAMAN/ CLEMENS)
back to the CLEMENT genealogy page
Family History
Michel CLEMENT was born in Harlange, Luxembourg June 26 1835, and died in Dubuque, Iowa, March 28, 1885. He married Margarite DEVILLE (born at Harlange, Luxembourg, Feb 24 1830, died in Dubuque, Iowa, July 24 1884) on Jan 31 1860 in Harlange. They had the following children:
Catherine CLEMENT (Jan 1 1861- May 2 1929) m Michael FRERES (Nov 13 1856- Nov 13 1932)

Marie CLEMENT

(Feb 16 1863- Jul 9 1944)
Margaretha CLEMENT May 5 1865- Jun 26 1867
Stillborn Aug 27 1869
Anne Marie Madelène "Lena" CLEMENT (Jan 22, 1871- Aug 9, 1884)
Annie CLEMENT (Sep 21 1874 Iowa- Aug 1 1880)

All but Annie were born in Luxembourg. They probably immigrated in 1871, since Catherine left documents to that effect. The CLEMENT family settled in Dubuque and were living at 1533 Maple Street as of 1880.

Catherine ("Katie") CLEMENT worked as a servant in Dubuque at that time. She came to the Chicago area and married Michael FRERES in 1881. As of 1882 they were living in Evanston. They later lived in the Lakeview area of Chicago and their children attended Rose Hill School. In 1903 they purchased the house at 1540 Thome Ave. for $2000.

Marie "Mary" CLEMENT moved from Dubuque to Evanston in 1885 and worked as a cook and housekeeper, staying with her sister's family. Years later she moved to Los Angeles and worked as a seamstress, then as a domestic for a wealthy family. According to her family, Mary had some sort of a scandalous aspect to her past, never talked about, perhaps a marriage ending in divorce. She is remembered as a favorite aunt "Mamie," who loved to wear elaborate hats.
But, recent research shows a different picture. According to several newspaper accounts Mary CLEMENT poisoned her sister Catherine's family in Evanston in 1885, but not fatally, and was suspected of killing her parents and two sisters back in Dubuque before that. Those four Iowa deaths seem more or less suspicious.
René Daubenfeld in Luxembourg, a researcher who is compiling information for a book on Luxembourg's emigrants to the US, uncovered this story in the Luxemburg Gazette, a German-language newspaper that was published in Chicago a century ago. We soon realized that the subject was a member of this same Clement family.
Newspaper accounts
This is a translation of the article found in a 1915 edition of the Luxemburg Gazette. It was a review of the story from 1885, sort of an "It happened 30 years ago" feature.

The "Illinois Staats-Zeitung" was a German language paper published in Chicago from 1862-1922.

I'm reproducing the Luxemburg Gazette story here but the Tribune and Herald stories are copyrighted. They tell substantially the same story but with less detail.

Harlange, located along the western edge of the country, is also known as Harlingen and as Harel. Like most place names in Luxembourg, it has both French and German versions of its name.

Thanks to René Daubenfeld for uncovering this story in the first place. It took a long time to research the rest.

The Luxemburg Gazette Aug 19, 1915
Mary Clement Convicted

In Chicago, on Friday, the trial of the unfortunate Mary Clement, not Kleman as most papers write it, was the top story in the "Illinois Staats-Zeitung"

Yesterday morning, the lawsuit against Mary Clement, the accused, came before Judge Anthony. She is accused of attempting to poison the family of her sister, Mrs Michael Freres in Rosehill, using arsenic, and is also suspected of poisoning her father, mother and one (two) sister(s) in Dubuque, Iowa. The young lady came dressed in mourning black, and according to the report, showed no peculiar outward nervousness and appeared serious and calm. She was defended by a young lawyer named N. Freeman, while the state attorney Longnecker represented the accuser. The jury selection for the state went quickly.

The first witness was Mrs. Freres, the sister of the accused, who did not seem to have the least compassion for the latter and made her statements clear and certain. She said that on Tuesday, June 8, Mary offered to cook a soup, and the witness agreed. At the table Mary refused to eat the soup. Because of the soup, according to the witness, her husband and children became ill, but they had recovered by Thursday. Then Mary cooked soup again and again ate none of it, and all who ate it became ill the next day. They found a grey substance in the remnants of the soup, which was handed over to a chemist for investigation.

Dr. Isaac Poole, Professor S. Carhart of Northwestern University, and Nathan B Williams, a chemist, made identical statements about the finding of poison in the substance, which had remained in the soup bowls, and over the poisoning symptoms of the patients.

Constable Samuel Harrison, who arrested Mary Clement, stated that the girl admitted to him in the station at Evanston, that she had bought a box of rat poison, which she used for her feet. She threw the box in the Water-Closet. This box was found later in the designated place. Police chief Carney of Evanston heard this discussion between the Constable and the accused, and the latter had also asked Mr. Carney whether he knew if they had disenterred the corpses of her parents.

Thus ended the testimony in support of the defense. The accused was then brought to the witness stand. She said she was 22 years old and after her parents had died, she came to her sister, Mrs. Freres. She was very ill, and had an episode of "apoplexy" ["a sudden loss of consciousness resulting when the rupture or occlusion of a blood vessel leads to oxygen lack in the brain," in other words, a stroke] and because of that she had problems with her feet and hands. Once she spent five months ill in bed, with only herself to help herself. She arrived in Rose Hill with $208, gave $50 to her sister, spent $50 on Doctor bills and still had $100 in her suit-case, when she was arrested. She did not deny preparing the soups in her sister's house but she also denied not eating it, and placing poison into the soup. She bought the box of rat poison to use for her feet, because she had read once that it was good for that by placing it in the bedding. When she was asked whether she had poisoned the soup, she explained in an excited way and with tears that she had no reason to add it.

Mrs. Freres presented her will, into which she arranged that the $50 with interest should be returned to her sister. In the will, which was made before the arrest of Mary Clement, she bequeathed their father's entire fortune to her sister. The will was certified as a piece of evidence.

In the afternoon Maggie Donohue of No. 516 W. Indiana St. was cross-examined and stated that Mary Clement, before the death of their parents, was healthy and strong, but had, however, been continually sickly since then. Both lawyers ended without responding to the jurors, and after the judge had given his instructions, the case was transferred to the jury at 3 o'clock.

At 5 o'clock the jury brought in their verdict, which was guilty of attempted murder by poisoning and a 1 year jail sentence. The accused broke into tears at the reading of the verdict, but was otherwise calm. A request for a new trial was rejected immediately by judge Anthony and the judgment was confirmed. The next week she was brought to Joliet. The jurors were divided from the beginning only over the amount of punishment, and this was set so low, because one juror assumed that the girl was not wholly responsible for her action.

So stated the report. After Clement serves her punishment, she is surely to be brought to Dubuque to stand trial for the four counts of murder.

The family Clement comes from Harlingen, in the canton Wilz [Wiltz]. Grandparents and parents of the girl were industrious, good, God-fearing people. The parents of the unfortunate one were respected in Dubuque because of their good character. It is nearly incomprehensible, how this child could strike in such a way at her kin.

more newspaper articles:
Chicago Tribune Friday July 17, 1885

MARY KLEMAN CONVICTED

On July 17 1885, Marie KLEMAN, age 22, was found guilty by the court in Chicago, of trying to kill the family of her sister Mrs Michael Freres in Rose Hill by serving them soup laced with arsenic from a box of rat poison that she had been using as a foot-remedy. This took place on June 8, 1885. The victims got sick but survived. Mary then served soup again, refusing any herself, and the family took sick again. At the trial, evidence was produced that convinced the jury of her guilt. Mary was sent to Joliet prison for one year.

The newspaper stated that the jury considered her sickly and a "weak-headed person," hence the light prison sentence.

Dubuque Herald Saturday July 18, 1885

MARY KLEMAN -The Murderess on Trial in the Chicago Courts Yesterday.

The article tells the same story, but adds a few details (she had killed her father and sister the year before.)

Chicago Tribune Saturday Oct 31,1885.

MARY KLEMAN CONFESSED

A friend in Dubuque reported that Mary had written her and confessed to killing her parents and other family members earlier in Dubuque. She also told her friend that she was glad to be in the penitentiary, but also glad to have a light sentence. She had frequently denied poisoning her family members in Dubuque, but finally admitted it in the letter.

Did Mary just blame herself somehow for the untimely deaths, or was she really responsible for the murders? Her parents and sister appear in Dubuque in the 1880 census (CLAYMAN), but they were missing from the 1890 census.
The places, dates, ages, and the Dubuque connection, all agree, despite the various spellings of the name. The Luxemburg Gazette also ran the story, noting that "her name was CLEMENT in spite of most papers spelling it KLEMAN."
Still, the incident seems at odds with peoples' memories. A direct descendent of one of the poisoning victims had never heard this awful story. He has pictures of her with her sisters later in life. What a puzzle. The family story that was handed down said that Mary was a little odd, a "grass widow" who never married but was beloved by her nieces and nephews.
When Mary Clemens died in 1944, at the age of 81, why was she buried in the Freres family plot at St Henry's church in Chicago beside the grave of her sister and among the nieces and nephews she poisoned? This is my speculation, but by 1944, the events of the 1880s were long forgotten. Catherine had died in 1929, and Michael in 1932. Those who were left to bury Mary were probably unaware of the awful incident 61 years earlier, a thing that was surely never talked about. Or perhaps it had been forgiven and forgotten. She was their favorite aunt.
Death Records from Iowa
The records from Dubuque Iowa help to explain the facts but also raise some questions
Dubuque Register of Deaths
1. Annie Clement died on August 1, 1880. Her death record gives her age as 5 years, 10 months, 10 days. Her cause of death was "Convulsions probably caused by eating too much before going to bed."
That sounds like it might be a case of poisoning. I wonder if they had soup that night.
2. Marguerite Clement died at home in Dubuque, at the age of 54, on July 24, 1884. Her death record listed "idiopathic tetanus," lasting 3 days. (The newspaper blamed her death on "lockjaw or cholera morbus" after an illness of 5 days.)
Could this describe poisoning? In the late 1800s there were thought to be three types of tetanus, based on symptoms. The "normal" type, traumatic tetanus, also referred to as "lockjaw," is caused by infection of a deep wound. The second type, "idiopathic" tetanus, means that the cause of the disease was not known. It's rare, and is sometimes caused by a stomach disorder. The third type of tetanus, strychnine poisoning, showed symptoms that were somewhat similar to lockjaw, but is now recognized as a separate condition. The differences might not have been appreciated at that time. Strychnine was then a common household chemical, even used as a cosmetic. However, it's very different from arsenic.

Cholera Morbus is an outdated term for acute gastroenteritis.

3. Lena KLAMAN, age 13 years and 7 months, 1533 Maple St. died on Aug 9, 1884 at 8:20 PM. She died after a 4 days' illness. Her cause of death was listed as "Nervous prostration and convulsions caused by Malarial Poisoning."
(Note: Malarial Poisoning was a new diagnosis at the time. In 1884, Scientific American was speculating about possible causes of malaria. See http://infomotions.com/etexts/gutenberg/dirs/1/1/6/4/11647/11647.htm The old theory was that malaria [once known as marsh fever] was brought on by breathing foul air rising from swamps and marshes. There was also an idea that it was caused by germs floating in the air. The new theory was that it was released by a stratum of soil and could be controlled by draining or topping off the bad soil. The author mentioned a promising experimental treatment for malaria -- Arsenic!

The connection of the disease to mosquitos was first suggested in 1881 but not proved until 1898. Scientists were regularly proposing new theories. Malaria is marked by severe fevers that are periodic, with normal spells in between. The doctor in Dubuque didn't seem to realize that it was exclusively a tropical disease, so his diagnosis was way off.)

4. Michel Clement died on March 28, 1885, of "failure of heart action," after being ill 5 days.
That one seems more like a natural death although he was only 49 years old. His death probably prompted the sale of the house at 1533 Maple, and Mary's move to her sister's in Chicago. Even if Mary didn't cause these deaths, they must have affected her.
Thanks Julie Ann Trenkamp, for looking up these records in Dubuque
Liber Defunctorum (Book of the Dead) from Blessed Virgin Mary Parish, Dubuque Iowa
| | |
| --- | --- |
| Anna CLEMANN age 6 months, died Aug 1 1880, buried Aug 2 1880 | Her age is wrong here. |
| Margareth KLEMAN age 54 yrs, 4 mths died July 24 1884 buried Jul 25 1884 | |
| Helena KLEMANN age 13 yrs died Aug 8 1884 buried Aug 10 1884 | Obviously Helena=Lena.) |
| Michael KLEMANN age around 50 yrs died Mar 28 1885 buried Mar 30 1885 | |
Thanks again Julie
MICHAEL FRERES' family
Michel FRERES (Nov 13 1856 Harlange, Luxembourg- Nov 13 1932 Chicago) m Catherine CLEMENT (born Jan 1 1861 Harlange, Luxembourg- died May 2 1929, the daughter of Michel CLEMENT and Margarite DEVILLE). Michael emigrated in 1879. Catherine and her family had been here since 1871. They married on May 18 1881 St Henry's, Chicago. They had a small farm at Rose Hill, Chicago, and later lived in Evanston, and eventually owned a house on Thome Avenue. They had three children plus four who died young:
Margaret FRERES (Jun 5 1882- Sep 14 1946 Chicago) m Frank N. HANSEN (Jul 29 1877 Chicago- Jul 29 1967, Skokie), on Apr 16 1902. Children: Catherine HANSEN, Francis [Anne] HANSEN, Wendelin [Elsie] HANSEN, Gilbert [Irene] HANSEN, Richard [Mary Jeanne] HANSEN, and Marian [James] DALEIDEN
Michael F. FRERES Dec 12 1883- Jul 4 1966 m Marie Z. GUIRSCH (-Nov 22 1962 Florida) on Jun 6 1936
Dominick E. "Tom" FRERES Apr 19 1886- Oct 1 1964 m Mary "Mayme" or "Mamie" MUNO (Apr 4 1887- Jun 2 1970) on Dec 5 1908. Children were Thomas [Rita] FRERES, Genevieve "Wheezie" FRERES (1926- Feb 19 1984) and Mary Jane [Robert] KRUMHOLZ
Frederic Michael FRERES Jul 18 1888- Dec 3 1891
Joseph Mathias FRERES Dec 1890- Feb 6 1891
Maria Catherine FRERES Feb 2 1895- 1895
Johnie FRERES 1896- 1896
---
Pictures of Mary Clement at various stages of her life. In the last one she is among her sisters, many years after the events of 1885.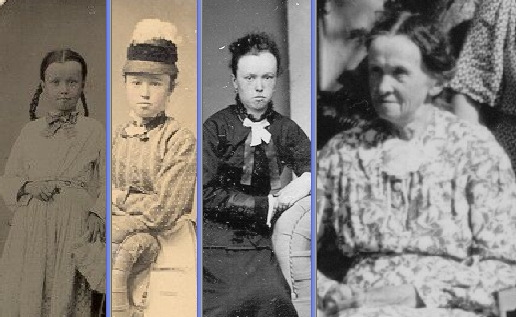 Page created December 27, 2007. Last modified May 28, 2017
© 2007, 2008, 2009, 2010, 2011, 2012, 2013, 2014, 2015, 2017, 2017 by Jim Heckenbach
comments? heckenbach@ameritech.net